PRESS RELEASE: [Dallas, Texas] Quick-Step, the style, design, and innovation leader in laminate flooring, makes successful connections with thousands of consumers each year through the social media arm of the brand's ongoing digital marketing program — and the Quick-Step booth at Surfaces 2015 was the source of many "selfies" buzzing around social media recently.
Quick-Step's Social Media Program
"To be successful in today's marketplace, a brand's marketing program must always include an effective social media component," said Paij Thorn-Brooks, vice president of brand marketing for Unilin, Quick-Step's parent company. "Innovative brands like Quick-Step are capitalizing on this opportunity to reach consumers and engage in a new way. Brand promotion through social media is not only effective, but in most cases it's an economical marketing tool as well. Social media is also a ton of fun — so we wanted to incorporate this popular medium into our Quick-Step booth during Surfaces this year!"
"Selfies" With Quick-Step's Celebrity Designer, Booth Models, & Style Icons
Quick-Step encouraged visitors in their booth to snap away, taking "selfies" with Quick-Step's celebrity designer partner Erinn Valencich who was a prominent contestant on NBC's hit design reality show American Dream Builders, Quick-Step's elegantly dressed booth models and Quick-Step's giant style icons featured in the booth (high heel shoe, lipstick tube, fingernail polish bottle).
#QuickStepStyle Campaign
To help generate excitement about the Quick-Step booth, the brand encouraged booth visitors to tag their posts and photos with "#QuickStepStyle" on social media. A hashtag campaign such as this can help increase the frequency and prominence of photos posted on social media, increasing buzz surrounding a brand. As a motivator to participate, those tagging their photos were automatically entered to win giveaways throughout the show. Twitter, Facebook, and Instagram were abuzz with photos, videos, and chatter about Quick-Step selfies, style icons, models, product fashion shows, and their celebrity designer during the recent Surfaces tradeshow.
Supporting Retailers' Efforts
"Whether the particular forum is Facebook, Twitter, Pinterest, Houzz, or YouTube, all of Quick- Step's social media efforts throughout the year come back to supporting one main goal – helping our Quick-Step retailers make more money for their stores and their staff, by selling more Quick-Step product," said Thorn-Brooks.
Follow Quick-Step & Join In The Conversation
Facebook: /QuickStepFlooring
Twitter: @QuickStepFloors
Instagram: @QuickStepStyle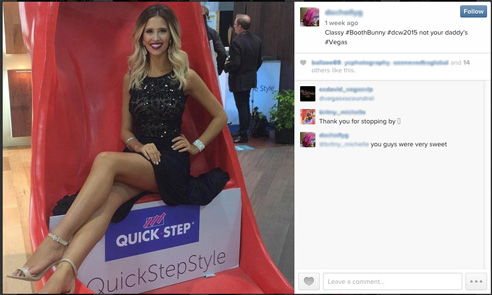 http://www.fcw1.com/Main/DailyUpdate/Social_media_abuzz_during_Surfaces_2015_7643.aspx