PRESS RELEASE: [Deerfield Beach, Fla.] MAPEI Ultralite™ S2 was introduced to tile installation contractors at The International Surfaces Event (Surfaces) in Las Vegas, Nevada that took place January 20-23; the product will be available to the marketplace during the first quarter of 2015.
At the request of American tile associations, the MAPEI Research and Development labs extensively tested methods for successfully installing large thin tiles and compiled a set of reference guides for installing 1/8″-to-1/4″ (3-to-6 mm) tiles and 3/16″-to-1/4″ (4,5-to-6 mm) tiles. As a result of continued work in this field, MAPEI has developed a mortar that addresses the major issues involved in getting a perfect fit between large, thin tile and its substrate. With MAPEI Ultralite S2, architects now have the freedom to design dramatically with large, lightweight thin tiles without worrying about the durability of the installation process.
Brian Pistulka, the business manager for MAPEI's Tile & Stone Installation Systems, spoke about this new ultralight setting material: "MAPEI has been the leading company in reference to installation products and methods for large, thin tile. As a result of listening to our distributors, contractors and tile manufacturers, MAPEI has identified a number of challenges associated with thin tile, including the need for:
•    Lighter setting materials to make the handling of large, thin tiles more controllable
•    Mortars with more open time to accommodate the needs of the installation environment associated with back-buttering tile and applying it to the substrate
•    Products with easier troweling properties and better wet-transfer properties to provide full coverage with improved bond.
The development of MAPEI Ultralite S2 mortar has met all these needs and delivers the best solution for installing large, thin tiles."
This highly deformable, polymer-modified mortar is formulated with Easy Glide Technology™ for ease of application. MAPEI Ultralite S2 features a long open time, extended coverage and superior transfer properties to enhance back-buttering, which is ideal for thin porcelain tiles as well as traditional ceramic tiles and stone. MAPEI Ultralite S2's unique Ultralite Technology™ provides twice the coverage of a standard thin-set mortar per pound/kg and is manufactured with 20% recycled content.
​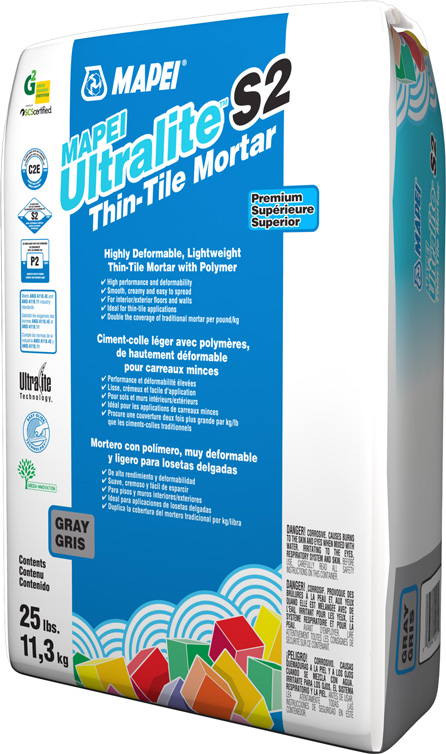 http://www.fcw1.com/Main/DailyUpdate/MAPEI_introduces_new_mortar_for_large_thintile_installations_7652.aspx