PRESS RELEASE: [Summerville, Ga.] In collaboration with Constellation, United Renewable Energy and Georgia Power, Mohawk Industries announces the installation of a new solar array at its Summerville, Ga. manufacturing facility.
The new panels will generate approximately 628,000 kilowatt-hours of electricity with zero greenhouse gas emissions annually. This renewable energy source removes the equivalent amount of greenhouse emissions produced by 90 passenger vehicles or about 40 homes over the course of a year, according to U.S. Environmental Protection Agency data.
"A key component of our business strategy is doing the right thing in the communities where we live and work,"Mohawk Flooring President Brian Carson said. "Being a good steward of the environment, offsetting our energy consumption and promoting sustainability throughout our business are all a part of how we do that. We are excited about this collaborative effort, and we are committed to further reducing our footprint in the future, both here in Summerville and across our business."
Mohawk is leasing the Summerville site's roof space to Constellation, which will own and operate the solar panels.
"Constellation is pleased to team with Mohawk Flooring and United Renewable Energy to support Georgia Power's strategy to encourage and cultivate renewable energy sources," said Brendon Quinlivan, director, distributed energy origination for Constellation.  "We currently have more than 60 megawatts of solar and other renewable distributed generation assets in operation or under development throughout Georgia, and over 250 megawatts nationwide, helping customers meet environmental goals and manage energy costs."
The power generated by these panels will be sold to Georgia Power by Constellation.
This electricity will be supplied directly to the local power grid, providing power to homes and businesses in the Summerville community.
"Georgia Power is pleased to see yet another solar facility coming online here in the state as part of our Advanced Solar Initiative," said Murry Weaver, vice president of the Northwest Region for Georgia Power. "Here in Georgia, through a constructive regulatory approach and strong working relationships with solar developers, we have one of the fastest growing and most competitive solar markets, without the upward rate pressure experienced in some states."
The project, which was developed and constructed by Alpharetta-based United Renewable Energy LLC, is part of Mohawk's comprehensive sustainability efforts.
"This is an exciting project at Mohawk Industries, and we are honored to complete construction for Constellation Energy, which collaborated with Mohawk Industries to make it a reality under Georgia Power's solar program," William Silva, president of United Renewable Energy LLC, said. "This project underscores Mohawk Industries' well-known commitment to sustainability and improves their bottom line. The project demonstrates how Georgia businesses can be more competitive by generating affordable solar energy."
In addition to operating the world's largest integrated plastic bottle recycling facility at Summerville, Mohawk is aggressively pursuing its goal of reducing overall energy, greenhouse gas (GHG) emissions, water and waste to landfill intensity by 2020.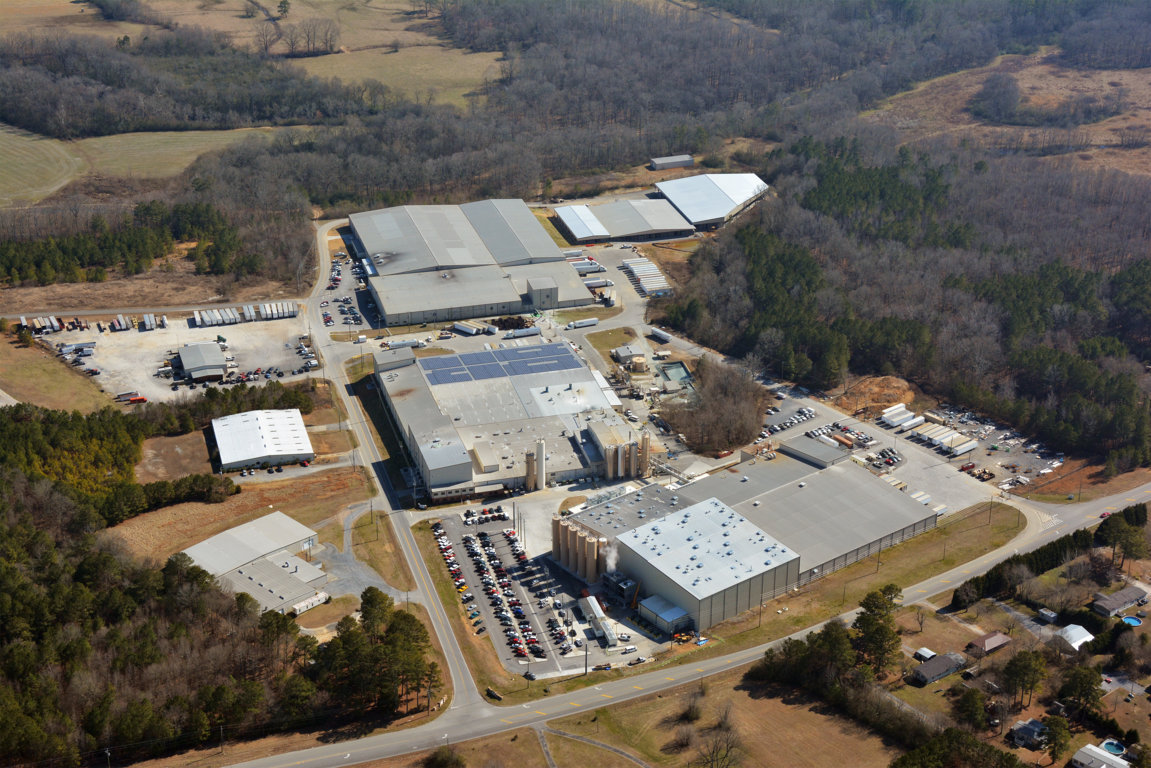 Mohawk's Summerville Facility

Executives cut the ribbon on Mohawk's Summerville solar panels.
http://www.fcw1.com/Main/DailyUpdate/a54a3477-75c7-4593-8db8-15928f5b6c31.aspx